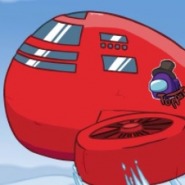 No doubts, Among Us is one of the most popular games launched in the last decade. This amazing cosmic adventure is extremely engaging and thrilling. The story tells about a crew of spacemen, willing to start an epic flight to the stars and planets, do investigations, and discover new areas of our universe. However, at some moment, something goes terribly wrong – it becomes clear that the crew is divided into two parts. The major part are still those hard-working engineers and pilots, while the second one is dangerous. The impostors are here and they will try hard to stop the mission. Breakage of the equipment and sabotage are not limits – they will also kill their former comrades and won't stop until the team is destroyed entirely. Among Us: The Starship is a great map, the fourth one, and it is based on the series of games about Henry Stickman.
The impressive map with numerous locations
The Air Ship map includes numerous areas to discover and most of them were not available before. First, the most significant new feature is called Spawn. On this map, you can choose one of the six rooms where you will appear at the beginning of the game and after the voting session. The locations include the main hall, engine room, lockup, archive, and kitchen. Second, you will find numerous stairs to move around the locations vertically without a necessity to enter other rooms or passing doorways. Third, you will find platforms – a block with a propeller, where you can float above the abyss. The platform unites the right and the left sides of the span. You can activate it and use to transfer only one player at a time. All of these areas and features are unique for a presented map, so in case you have never tried it before, you will definitely enjoy an unusual and pretty advanced experience.
Impressive security systems on the zeppelin
The entire map is a huge zeppelin, where three main security systems are located. With their help, you can watch carefully on the map and see what is happening around different areas. In general, if you have already played the map called Polus, you will find the security system of Airship pretty similar to it. Using the security systems, you can watch after the other players and try to figure out who behaves strangely – he/she might be an impostor. For the impostors – always keep that fact in mind and make sure that you don't get caught this way. The systems include a Captain Bridge (a monitor where different places can be observed along with the amount of players out there) and video cameras with recordings. Have fun on the Airship!